There are some great gift guides being compiled in the blogosphere. Here are two that I've stumbled upon that feature great products, many of them by mom-run businesses.
Musings of a Housewife has a great list, complete with lots of giveaways. You could even wear a pair of Joe's Jeans!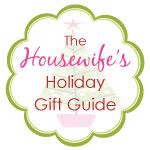 Several blogs (The Inspired Room, The Nesting Place and A Soft Place to Land, to name a few) worked together to put together a list of mom owned businesses that have some of the most creative and cute gifts.